Today is Swagbucks birthday! Yay! Happy 2nd Birthday Swagbucks! So in honor of my love for Swagbucks, I'm holding a giveaway where one lucky reader will win a $50 Amazon Gift Card! Whoo hoo!

Before I get to that, I want to remind everyone of the cool changes SwagBucks has made. If you've been a member for a while, you'll immediately notice the sites new look, which I love, but better yet, your Swag Bucks points have all been multiplied by 10! So if you had 30 Swag Bucks in your account, you will now have 300 Swag Bucks. (You can read more about the change here.)

For those of you who have yet to join in on the fun that is Swagbucks this is the perfect time to join!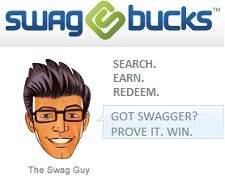 What is SwagBucks?

Swagbucks.com is the web's premier rewards search site. Swagbucks.com allows web users to earn virtual currency by doing the things they do every day – search the web, shopping at their favorite retailers, and by engaging in other activities such as phone recycling, submitting polls, and completing special offers. Swagbucks.com is the only place on the web to get what you want without ever having to spend a dime.

Throughout the day SwagBucks will be doing lots of Swag Code giveaways, on their twitter, blog, and facebook pages just for searching web through SwagBucks!
So get searching!

To enter to win a $50 Amazon Gift Card in celebration of SwagBucks 2nd Birthday, you must not be registered with SwagBucks and must be a new member and sign up through this link. Once you've signed up through the link above, post a comment below stating you've registered and wish SwagBucks a happy happy birthday!


This lovely giveaway ends March 10, 2010 at Midnight PST. The randomly selected winner will be announced on Saturday March 11th.

Good luck! And HAPPY BIRTHDAY SWAGBUCKS!